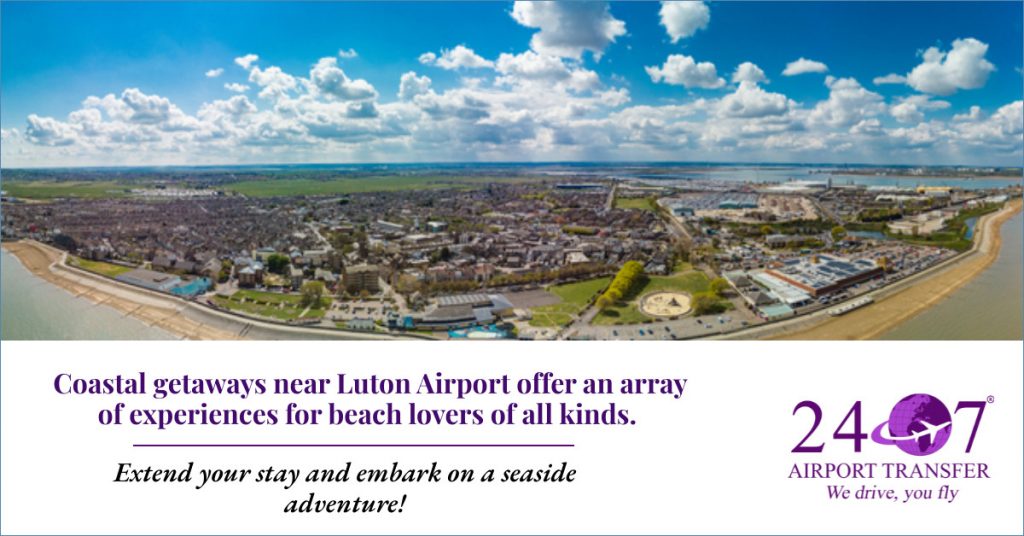 Luton Airport is very conveniently located on the outskirts of London. It offers travellers an excellent starting point for exploring the picturesque coastal destinations of the United Kingdom.
If you're a beach lover, you'll be delighted to discover that within a few hours' drive from Luton Airport, there are some incredible sandy shores waiting for you to explore them.
Whether you're seeking a tranquil escape or an action-packed beach adventure, these stunning seaside retreats near Luton Airport are sure to satisfy your wanderlust.
Brighton Beach
Situated on the sunny south coast of England, Brighton Beach is a vibrant and popular destination that boasts a lively atmosphere. Just over an hour's drive from Luton Airport, this pebble beach is renowned for its iconic pier, quaint beach huts, and bustling promenade.
Enjoy a stroll along the lively seafront, explore the independent shops and cafes of The Lanes, or simply soak up the sun on the beach. Don't miss the opportunity to experience the vibrant nightlife and entertainment options that make Brighton a year-round destination.
Camber Sands
Approximately two hours drive from Luton Airport lies Camber Sands, a true gem on the East Sussex coast. This expansive golden sandy beach stretches for miles and offers stunning dune landscapes, making it a paradise for both sunbathers and outdoor enthusiasts.
If you're an avid water sports enthusiast, Camber Sands is the ideal spot for kiteboarding, windsurfing, and even landboarding. With its unspoiled beauty and breathtaking sunsets, Camber Sands provides an idyllic setting for a relaxing day by the sea.
Southend-on-Sea
Southend-on-Sea is located less than an hour from Luton Airport. It's a charming coastal town that showcases the classic British seaside experience. Southend's main attraction is its long sandy beach, which is perfect for family outings and leisurely walks along the promenade. Thrill-seekers can enjoy the adrenaline rush of the world's longest pleasure pier, featuring an amusement park and fantastic views of the estuary.
Indulge in fish and chips, visit the sea-life aquarium, or take a leisurely bike ride along the coastline for a memorable day out.
Whitstable
Venture approximately two hours from Luton Airport, and you'll discover the picturesque town of Whitstable. It's famous for its charming pebble beach and oyster farming heritage. Known as the "Pearl of Kent," Whitstable offers a laid-back atmosphere, traditional beach huts, and an abundance of fresh seafood. Stroll along the shore, explore the quaint streets lined with boutique shops, and savour the local delicacies at one of the many seafood restaurants. Don't forget to visit the bustling harbour and try your hand at crabbing for a truly authentic seaside experience.
Bournemouth
For those willing to travel a bit farther from Luton Airport, Bournemouth rewards visitors with its spectacular stretch of sandy beach. The seven-mile is lined with colourful beach huts and backed by picturesque cliffs.
As one of the UK's most popular coastal destinations, Bournemouth offers an array of activities. They include water sports, beachfront festivals, and stunning coastal walks. Immerse yourself in the vibrant town centre, explore the charming gardens, or enjoy a leisurely day on the beach.
Travel with 247 Luton Airport Transfer
Additionally, to make your beach exploration near Luton Airport even more convenient and stress-free, consider utilizing the services of 247 Luton Airport Transfer company.
With their reliable and efficient transportation services, you can seamlessly travel from the airport to these stunning coastal destinations and back. Their professional drivers and comfortable vehicles ensure a smooth journey, allowing you to relax and fully enjoy your beach getaway. By choosing 247 Luton Airport Transfer, you can focus on creating unforgettable beach memories. Just leave the transportation logistics in capable hands.
While Luton Airport may not be located on the coast itself, it serves as a fantastic gateway to some of the UK's most beautiful beaches.
From the lively shores of Brighton to the tranquil charm of Whitstable, these coastal getaways near Luton Airport offer an array of experiences for beach lovers of all kinds.
Next time you're passing through Luton Airport, consider extending your stay and embarking on a seaside adventure that will leave you with memories to cherish for a lifetime.