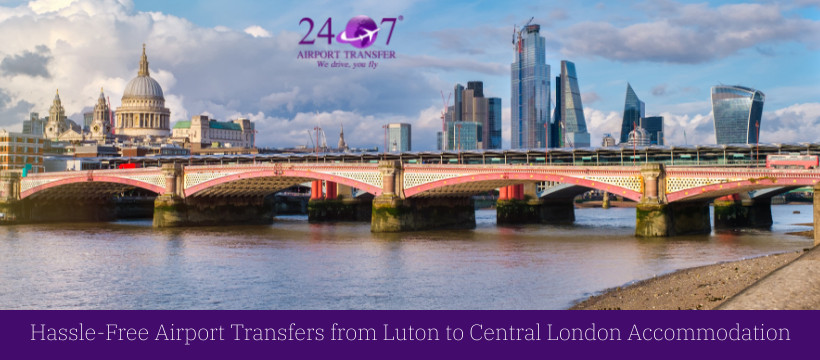 Arriving at a new destination can be both exciting and overwhelming, especially when you have to navigate transportation options. For travellers who land at Luton Airport and are in need of a convenient and comfortable transfer to their accommodation in Central London, we are here to help. With our reliable and professional private transfer services, you can start your journey in London stress-free. See below all the essential information you need for a seamless transfer from Luton Airport to your central London lodging.
Pre-Booking and Reservation
We ensure a smooth and hassle-free transfer experience. We highly recommended pre-booking your private transfer in advance. 247 Luton Airport Transfer offers a convenient online booking system that allows you to reserve your transfer at your preferred date and time. Rest assured that a professional driver will be waiting for you at the airport, ready to whisk you away to your central London accommodation.
Meet and Greet Service
Upon arrival at Luton Airport, navigating the unfamiliar surroundings can be daunting. That's why our dedicated drivers offer a meet-and-greet service. They will be waiting in the arrivals area, holding a sign with your name, making it easy to locate them. This personalized service ensures a smooth transition from the airport to your private transfer vehicle, without any unnecessary delays or confusion.
Comfortable and Reliable Vehicles
At 247 Luton Airport Transfer, we prioritize your comfort and safety. Our fleet of vehicles includes a range of options to suit your needs, from sedans to spacious minivans, ensuring a pleasant and relaxing journey. The fleet has modern amenities like air conditioning, ample legroom, and complimentary Wi-Fi. Sit back, relax, and enjoy the scenic drive from Luton Airport to your central London accommodation.
Professional and Knowledgeable Drivers
Our drivers are experienced professionals and know about the ins and outs of London. They are well-versed in the city's roads, traffic patterns, and popular landmarks. Feel free to ask for recommendations or tips on exploring the city, and they will be more than happy to assist you. Our drivers will provide exceptional service, ensuring a pleasant and informative journey for all passengers.
Fixed and Transparent Pricing
When it comes to pricing, we believe in transparency and fairness. Our rates are fixed, so you won't have to worry about unexpected surge pricing or additional charges. The price you see at the time of booking is the price you pay. Traffic conditions or any other external factors won't change it. This allows you to budget your travel expenses with confidence, knowing that there won't be any surprises along the way.
Navigating transportation options in a new city can be a daunting task. Still, with 247 Luton Airport Transfer, your journey from Luton Airport to central London accommodation becomes seamless and stress-free. Enjoy the convenience of a professional driver waiting upon arrival, comfortable and reliable vehicles, and knowledgeable guides who can enhance your London experience.
With transparent pricing and exceptional service, we aim to make your travel experience a memorable one right from the moment you touch down in London. Trust 247 Luton Airport Transfer for a smooth and enjoyable transfer!